Hand Painted Wallpaper Biography
The icons featured on this site are the work of an English icon painter, Helen McIldowie-Jenkins. For over 17 years, Helen has undertaken many public and private commissions for various churches, institutions and individuals in the UK and overseas, especially in the US. Whilst many of the commissions are for archetypal Byzantine and Russian images - usually requested for special occasions, such as Ordinations, Baptisms and Memorials. Helen has also composed many new icons to meet specific devotional functions and where no prototype now exists, i.e., Anglo-Saxon Saints of the pre-schism church. These contemporary commissions are an opportunity for the continuity of the universal spiritual precepts of icon painting and for the iconographic development of the English spiritual tradition.
Helen has travelled to various parts of mainland Greece, Northern and Southern Cyprus, Istanbul, Ravenna and Sicily to study Byzantine art and icons and has most recently made several trips to St. Catherine's Monastery, Sinai, Egypt.
The Sinaitic icons will be the focus of 'Icon Adventures' – specialist art-history and icon painting holidays to Sinai that will be offered from late 2009. (For more information please contact info@elenisicons.co.uk)
Much of Helen's work has been overseen by the critical eye of the Orthodox priest and writer, Fr Andrew Phillips, who particularly encourages new icons to be painted of the early saints of East Anglia and Britain and has commissioned 'new' icons of these from Helen for the Orthodox church of St. John the Wonder Worker, Colchester.
As well as lecturing to various societies, Helen also teaches icon painting and gilding to groups and individuals focusing on the specialist medieval panel painting techniques of gesso preparation, water gilding and the use of egg tempera as the painting medium. This practical tuition is in relation to the art historical context of icons and the development of Byzantine art in the West. The objective of the icon painting classes is to achieve a continuity of tradition and to maintain the spiritual function and Presence of icons.
Helen has a background in Fine Arts and Art History and has worked in museum and adult education environments, the interior design industry and more recently with the Woodard Corporation of Schools as their official icon painter and Artist in Residence.
Following her first class BA Honours degree in Art History, Helen was awarded the Edmund J. Safra Scholarship to the Courtauld Institute of Art to study her Masters Degree. Her Dissertation investigated an unusual form of Crucifixion iconography.
Hand Painted Wallpaper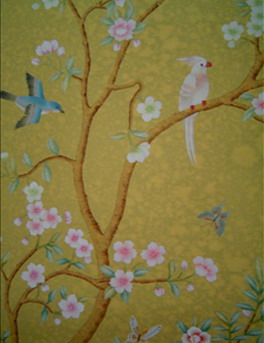 Hand Painted Wallpaper

Hand Painted Wallpaper

Hand Painted Wallpaper

Hand Painted Wallpaper

Hand Painted Wallpaper

Hand Painted Wallpaper

Hand Painted Wallpaper

Hand Painted Wallpaper

Winterthur: Hand-Painted Japanese Wallpaper